Sorry for the blog silence lately. As I recovered from donation surgery, my cat Joe got very very sick for no reason that anyone could determine. After two weeks of him refusing to eat and us struggling to force feed him, and with him very obviously getting sicker, we finally let him go last Monday.
Here he is in a fishy bed I made for him years ago.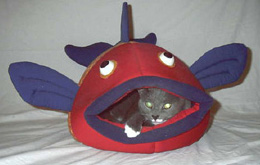 The vet came to our home, so we were able to say goodbye with him laying in his favorite patch of sun, sniffing the breezes, with me and The Boy petting him.
I am just now getting back into doing some sewing. Tomorrow is my birthday and I will likely have a special birthday dance at the regular venue where The Boy and I go on Tuesdays (birthday dances in the swing dancing world involve the birthday girl standing in the middle of a circle while various leads steal her in succession for the length of a song). With that many people standing around looking at my butt, I figure it had best be clad in a new skirt. Hopefully I will post the finished product tomorrow.